Introduction:
Cleaning Up of DSLR is the most important thing for every photographers, isn't it? Yes, it is! The cause is as photographer the camera is your most important thing for you! Because any harm to your camera is harm to you!
For this reason today I thought why do not I share with you all such an important thing !So in this blog today I'm gonna suggest you how to take care of your darling! No! Change up your thought I am speaking about your camera !
So without any further a-do let's get started!
Spotting Dust: Preliminary Step to Cleaning!
As a part of your work you always need to change your lens! But the problem is that every time you open up your lens for changing you expose it to dirt and dust!
You should always try to protect you camera from direct dust and any kind of foreign particle. It is very much risky as well as unhealthy to change lenses is sandy areas like sea beaches and also in windy condition.
The work of spotting dust can be done with the help of table lamp! Or more smartly you can use smart dust spotting lens light kit. Now, this part is important because with this you will be aware of the type of dust on the camera lens and parts and can easily perform next steps.
Blowing Away:
Now once you have spotted dust and dirt, next you have to blow them away by either using your small dirt blower or anything like pocket fan. But make it sure! You are not using your mouth to blow air, otherwise small particles of saliva may fall on it.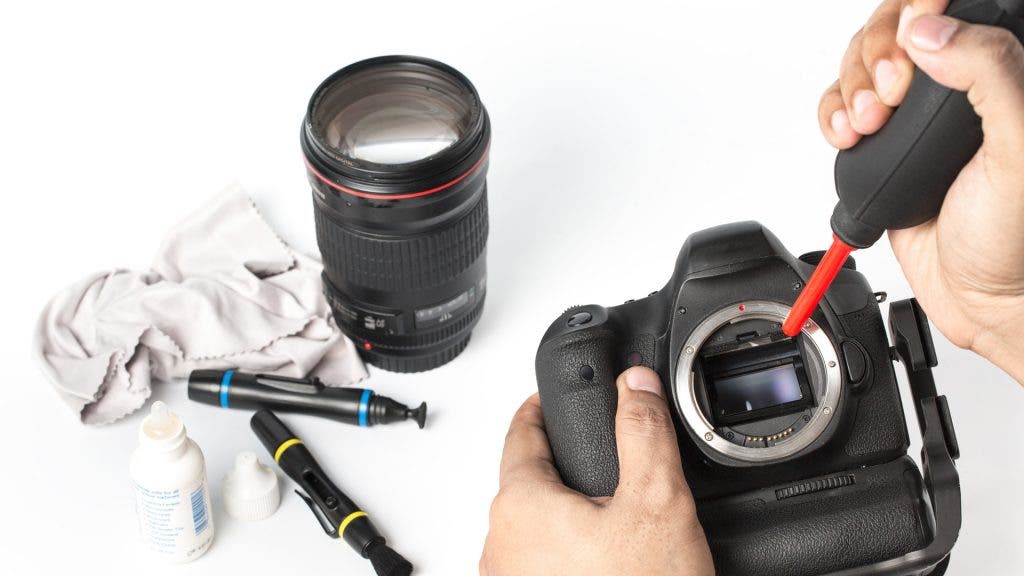 This potion is the most probably the most important step! Because dry dust can be the cause of irritating scratches! Dry dust has rough surfaces and if you do not blow them away it may get rub against the surfaces of the lens and give awkward scratches, so be very careful. Another reason is that this blowing of dust saves your time, by reducing dust!
Applying Fluid:The main Part
Now once you have completed all the above tests! Its the most important time of the camera cleaning! Yes! it is time to take of the sticky dusts! For this you will need:
Cleaning Fluid
Lens Tissue or Micro Fiber Cloth
Camera Cleaning Fluid: . Use distilled water or a cleaning fluid that is formulated for camera lenses and fresh lens tissue. Put a single drop of fluid on the tissue (never on the lens) and gently wipe the lens surface in a circular motion. But some fingerprints are very much sticky and do require the interference of fluids.

Micro Fiber Cloths: Micro Fiber is a fine synthetic fibered soft cloth that you can easily for cleaning up specks of dust. it absorbs dust as well as extra liquids very easily.And fasten up your process.
Final Touch & Conclusion:
Final step look for leftover liquids if there make sure to clean it up. As extra liquids can be very harmful and may sometimes end in white patches of spots and could destroy your camera forever. MOST IMPORTANT! NEVER CLEAN UP YOUR CAMERA IN DUSTY OR DIRTY AREA! NEXT! NEVER RUB YOUR LENSES CONTINUOUSLY, as it will result in scratches! LAST BUT NOT THE LEAST! REMEMBER TO CLEAN YOUR LENSES AT REGULAR INTERVAL!
If you want a guide on How to buy a Camera click here.
Thanks for reading!!