What is Camera Zoom?
Before talking about zoom cameras in a Smartphone let us discuss a little basics. In photography zoom is actually a feature by which one can smoothly shift from a long shot to a close up one and vice versa. Basically what it does is it allows you to make a subject closer than it actually is. In other words by Zooming in we can have a closer look of the objects. And by zooming out we can have a more wider look.
There is one thing in common in every Smartphone now-a-days. The thing is they are flaunting about their zoom camera in the spec list for sure. This gonna be a little long you know because you will know Everything about Zoom Cameras on a Smartphone!!
Revolution of Zoom Cameras!
From the very beginning when zoom cameras was first introduced in the smartphones they replicated the Digital Cameras. The Smartphone manufacturers incorporated the idea of changing the lens elements along the optical axis. Changing the lens elements' relative position requires a very accurate mechanism. Because on depending on the that the optical performance is not compromised.
First attempts of incorporating the zoom cameras include the Samsung Galaxy K-Zoom announced in April 2014 lies. Samsung used a typical camera module in the phone to allow up-to 10x zoom. As a consequence of doing that the smartphone turned out to be very heavy in itself. The K-Zoom's camera mod added more than two times thickness to it and more when zooming in. Moreover, it increased its weight to 200 grams whereas a typical smartphone of that time weighed up-to 140 grams.
So, the conclusion is Samsung really did a great job on terms of zoom but couldn't make the phone handy for customers. Few other Smartphones like the Asus Zenfone Zoom and Nokia 808 Pureview couldn't make upto the mark for some certain loopholes.
Recent Area and Innovations on Zoom Cameras in the newer Smartphones:
Technology is changing very fast. Zoom technology on Smartphone cameras completely changed in the last few years. Let's get a little deep into this discussion.
There are basically two types of zooms namely Digital Zoom and Optical Zoom.
Digital Zoom:
Digital Zoom is most widely used zoom technique in smartphones' zoom cameras.
How It Works:
To be honest digital zoom is not actually zooming. It actually crops down the original picture around the Subject intended to zoom in. It crops around the subject and then resizes it to fit.
Disadvantage of Digital Zoom is one the biggest factors for which zoom cameras on smartphones stop using it. We basically pixels and quality of the photo taken. For example if you take a photo in 4000 x 3000 (12MP) and crop it to 680 x 480 (3MP), you are losing a lot of pixels ofcourse. The 3MP photo stretched to fit the dimensions of a 12MP photo so the photo gets blown out.
A Solution got by the smartphone companies is to increase the megapixels of the cameras. The more pixels a camera has, the more a photo can be blown out without a noticeable reduction in picture quality.
The Smartphone companies came up with different techniques to fill up the pixel data gaps. One such technique is Interpolation. In Interpolation the camera's algorithm makes calculated guesses looking at neighbouring pixels to determine what colour pixel is needed to fill the gap. It is actually a mixture of actual pixel data and software generated pixel data. Some Phone manufacturers really doing a great job using this algorithm only. But still you are losing the original Quality!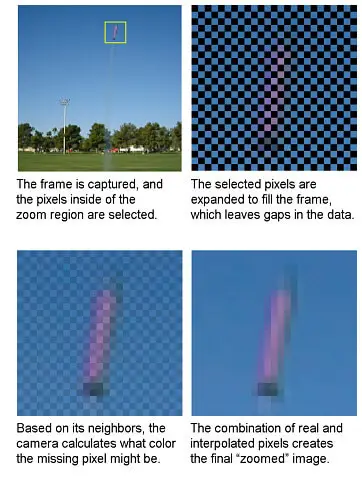 Optical Zoom:
Optical Zoom a.k.a the "Lone wolf" of the Zoom Photography Market arrived late in new age smartphones. I termed it as "Lone Wolf " because it is by far the best zooming technique in cameras. It is the king no matter the device is a point and shoot or a DSLR camera or a smartphone.
How Optical Zoom Works:

It is actually achieved by using a series of lens elements. The glass move through the lens to zoom in or out. This actually the truest form of zooming in photography. Because the lens is manipulating the light rays falling on the image sensor. As a result we are getting a magnified yet remarkable results.
It is actually everything based on changing or adjusting focal lengths of the lenses. For more information about focal lengths click here.
So if we take an example a lens with fixed focal length. For example a 50mm lens is normally used to have a closer shot when the subject is near. To have a closer shot of a far away subject you need to use a lens with longer focal length. For example a 200mm or 300mm lens.
Same happens with a lens with adjustable focal length. For example a 18-55mm lens with a 18mm(wide angle) and a 55mm(much narrower angle) variation. Like the previous one the first goes for the zoomed out photo and later for the zoomed in photo.
Results of the Optical Zoom:
In theory it seems like Optical Zoom will give as results which are identical to moving towards the subject. But in Practical life it does not happens. Factors like glass quality, the aperture becoming less as we are increasing the focal length reduce the quality. But even after considering all the downsides of the Optical zoom it is best option to have a closer shot if you cannot get close to the subject.
Current Situation of the Optical Zoom Technology in Zoom Cameras in Smartphones: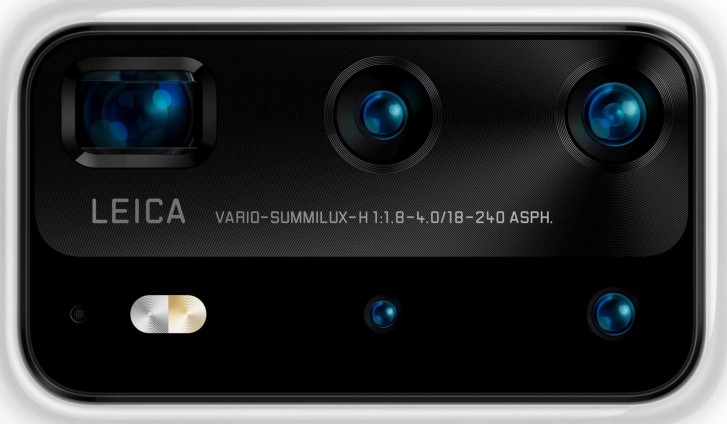 Because of its awesome and exceptional features optical zoom is a novel feature among the manufacturers and consumers. In the past Samsung, ASUS and many other companies tried to implement it in their phones. They were actually Successful but they ended up with either very thick phones or heavier phones.
The Solution:
Smartphones now-a-days need to be slim and light otherwise no consumer will be willing to buy that. So the phone manufacturers came up with a completely new idea which is multiple cameras. In the multiple Camera Setup unlike point and shoot or the DSLR cameras the camera lens doesn't protrude out. Rather the phone have periscope like embedded lens setup which enable them to achieve that level of optical Zoom. As a result of which the phone still looks sleek and feels light.
In this mechanism or solution the lens doesn't move to attain optical zoom, instead the phone seamlessly switches to the lens with higher magnification factor.
Future of Zoom Cameras:
The Future of zoom cameras in smartphones is brighter than ever. The innovation in the Smartphone camera is moving really fast. Samsung had launched the Galaxy K Zoom with 10x zoom in July 2014 which was at that time considered as one of the most innovative steps. Now in february 2020 Samsung came up with Galaxy S20 Ultra packed up with a 100x zoom camera. Not even six years and we developed our technology 10 times, that's the speed in which technology is moving.
I have very high hopes about the cameras of on the smartphones. The mixture of hardware and image processing by the camera software will bring an explosion in the future.
I'm Very Excited about it, what are your thoughts? Make sure to mention them in the comments. Moreover, if you have any question, advice, suggestion or anything else feel free to comment down below. We will be more than happy to listen to what you think.
Oh one more things,
Only the camera hardware or software or the smartphone cannot make you photos good but techniques can. Make sure to check out my tips and tricks blog 17 Awesome ways to up your game in Mobile Photography!!!!
We will be coming up with how Computational Photography is changing the smartphone camera scenario! So make sure to subscribe to our website.
Thanks for Reading!!!